-James (Jimmy) Patrick Page was born on January 9, 1944 in Heston, England, a suburb of London. (located in the historic county of Middlesex)
Middlesex, England
-His father was an industrial personnel manager and his mother was a secretary for a doctor.
-Page first picked up the guitar when he was 12 years old. He took a few lessons but was mostly self-taught. His first guitar was a used 1949 Gibson Les Paul.
Gibson Les Paul guitar
-Early musical influences were Elvis Presley's guitarists Scotty Moore and James Burton, folk artists Bert Jansch and John Renbourn, and blues musicians B.B. King and Elmore James. One of the first songs he learned to play on guitar was the Elvis song "Baby Let's Play House".
-Jimmy appeared on the ITV talent search program Search for Stars at age 14.
-After graduating from high school Page joined his first band, Red E. Lewis and The Red Caps. Shortly after joining The Red Caps Jimmy was asked to join the band Neil Christian and The Crusaders. He left The Red Caps and The Crusaders gave Page his first touring (toured around England) and recording experience, recording the single "The Road to Love" in 1962.
Young Jimmy Page
-Page then became ill with glandular fever and had to quit his band and recuperate. He enrolled in an art college in Sutton, Surrey to pursue a career in art. However, while a student at art school, he often jammed with guitarists Jeff Beck and Eric Clapton.
Jeff Beck Eric Clapton
-John Gibb spotted Page playing guitar one night and asked him to help record some songs for his band, The Silhouettes. He played on the songs "The Worrying Kind" and "Bald Headed Woman" for EMI records.
-Then, Mike Leander from Decca Records hired Jimmy Page for regular studio work. In his first session for the label he recorded "Diamonds" by Jet Harris and Tony Meehan. That song went to number 1 on the singles charts in 1963.
-Page was briefly in the bands Mickey Finn and Carter Lewis and The Southerners, but quit them to be a full-time studio session guitarist.
-Some of Page's more notable studio work includes 1963's "Twist and Shout" by Brian Pool and The Tremeloes, 1964's Rolling Stones' song "Heart of Stone", Marianne Faithfull's "As Tears Go By", "Tobacco Road" by Dave Berry, and Lulu's hit "Shout". In 1964, Page was on The Kink's big hit song "You Really Got Me" . Page contributed a lead guitar part to The Who's very first single, "I Can't Explain". There is however, disagreement over if his part was actually used or not. It is estimated that Jimmy Page appeared on 60% of rock music produced in England between 1963 and 1966.
-In 1965, The Rolling Stones' manager, Andrew Loog Oldham hired Page as the house producer for the newly formed Immediate Records label. While a producer for Immediate Records he played on tracks by John Mayall, Nico, and Eric Clapton, who were artists on the label.
-By 1966, Jimmy wanted to join a full-time band and cut back on studio work. The Yardbirds offered him a position as bassist, which he took, but then moved to the role of guitarist. With Page in the band, it started playing harder rock, as opposed to the strictly blues-rock they used to play.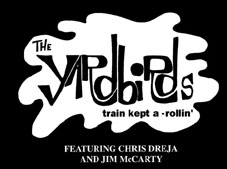 -Shortly after Page joined The Yardbirds fellow Yardbirds guitarist Jeff Beck quit.
-The band went on several European tours and recorded the album "Little Games" after Page joined but broke up in 1968 with unplayed dates left on a tour because of personality differences. Page wanted to finish the tour and put together a new band with John Paul Jones on bass, Robert Plant on vocals, and John Bonham on drums. He called the band The New Yardbirds.
-After The New Yardbirds' first tour they changed the name of the band to Led Zeppelin and pioneered the genres of hard rock/heavy metal with Jimmy Page as the producer, guitarist, and composer of Led Zeppelin.
-Between 1969 and 1975 the band released Led Zeppelin I, Led Zeppelin II, Led Zeppelin III, Led Zeppelin IV, Houses of the Holy, and Physical Graffiti. These albums made them hugely popular and successful, producing classic songs such as "Dazed and Confused", "Whole Lotta Love", "Immigrant Song", "Black Dog", "Stairway To Heaven", and "Kashmir".
-Led Zeppelin earned a reputation for being a great live band.
-In 1971, working under the alias of S. Flavius Mercurius, Page worked with folk artist Roy Harper on the album, Stormcock.
Roy Harper
-Led Zeppelin launched their own record label, Swan Song, in the mid-70s.
-Jimmy began using heroin in 1976 and his guitar playing suffered because of it. By the dawn of the 80s he was an addict.
-Page gained an interest in the occult and purchased a mansion in Loch Ness, Scotland that was once owned by famous Satanist Aleister Crowley.
Aleister Crowley
-In 1976, Led Zeppelin released the soundtrack The Song Remains the Same and Presence.
-Another Zeppelin album, In Through the Out Door, was released in 1979.
-Led Zeppelin broke up in 1980 because of the death of Plant's young son in 1977 and Bonham's 1980 alcohol-related death.
-After Led Zeppelin ended, Page dissappeared from sight and rarely touched his guitar until 1982.
-Page composed and played on the soundtrack for the movies Death Wish I and Death Wish II in 1982.
-In 1983, Page took part in the A.R.M.S. tour with many other stars such as Jeff Beck and Eric Clapton to raise money for multiple sclerosis research.
-In 1984, Page played with Plant, Beck, and Nile Rodgers on the EP of rock oldies The Honeydippers.
-Jimmy formed the band The Firm in 1984 with vocalist Paul Rodgers. Their first self-titled album was a hit but after their second album, Mean Business, was not as well-recieved the band called it quits.
-The surviving three members of Led Zeppelin reunited in July 1985 at Philadelphia's JFK Stadium for a Live Aid show. The set was under-rehearsed and sloppy.
-Led Zeppelin reunited again in 1988 for the Atlantic Records 40th Anniversary Concert at the Madison Square Garden in New York City. This was another bad performance.
-1988 also saw Page as a guest on Robert Plant's solo release, Now and Zen.
-After Plant declined to reunite and do an entire album with Page in the early 90s, Jimmy collaborated with David Coverdale of Deep Purple for one album and only a small tour of Japan.
David Coverdale
-The Yardbirds are inducted into the Rock & Roll Hall of Fame in 1992.
-Page and Plant reunited in 1994 and played the acoustic set No Quarter, an MTV Unplugged special on TV, and a sold-out world tour.
-Led Zeppelin is unducted to the Rock & Roll Hall of Fame in 1995.
-In 1998, Page and Plant issued an album of all new material called Walking Into Clarksdale. This album was not very popular.
-Page released an album called Outrider in 1998 as well.
-Page and Plant broke up again in the late 90s as Page joined The Black Crowes for tour and live album named Live at the Greek, which was released in 2000.
-In June of 2001, Page and Plant once again joined on stage in celebration of the 60th birthday of their friend, Roy Harper, a folk musician.